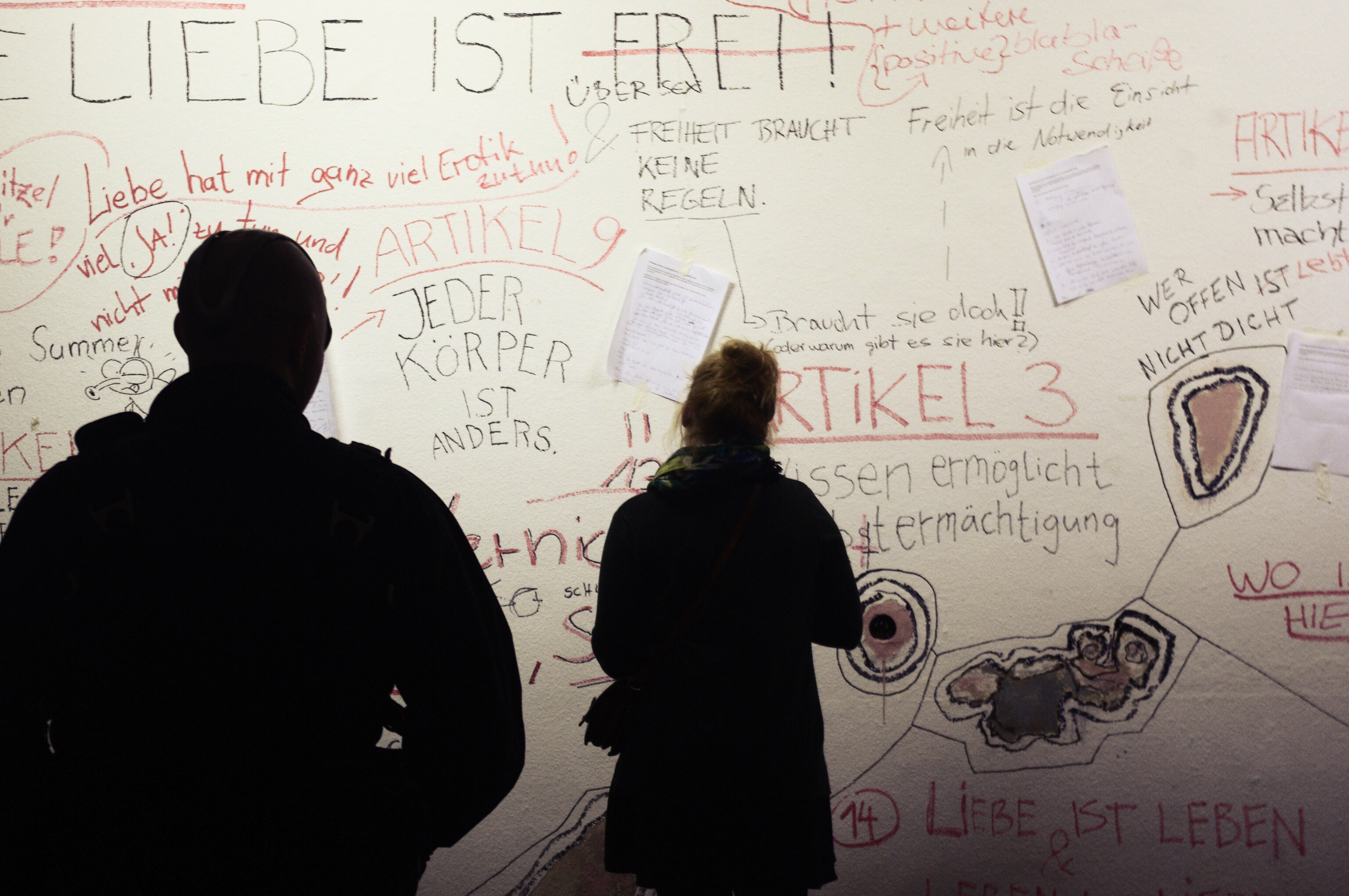 queertopolis. Desire each other!
What it's about
The diversity of corporality, love, and desire often remains invisible in a public sphere where heterosexual, monogamous relationships of white, able-bodied, young bodies are the norm. We want to change that!
With a queer gaze, we will transform the grounds of the Phoenix Sauna Cologne into the temporary utopia queertopolis. For two whole days and nights we bring together the regulars, performers, voices of the LGBTQIA+ community, and festival visitors. This way, a trip to the sauna turns into a queer happening, that treats you to shows, performances, installations, parties, concerts, and mini-workshops all about the topics of lust, love, sex, and relationships in the evening hours.
Why you need to be there
Perhaps you are wondering: What kind of self-determined sexual encounters do I want? What do I like about my body, in spite of societal norms? Can there be nice porn for everyone? If so, does the thought of exploring possible answers, in a room charged with sensuality and entering into an encouraging exchange with others, excite you? Are you ready to carefully question your own boundaries in a challenging but protected space?
Then you have to take part in our queer utopia queertopolis!
We want to celebrate sexuality in every respect.
Guide to queertopolis
We are looking forward to welcoming you at queertopolis - a new space for arts and culture. We're glad you're interested in discovering our queer utopia of desire.
To help you get your bearings and feel comfortable and safe, here are some answers to your questions.
What can I expect?
Besides sauna and wellness, there is something to discover in all corners: performances, exhibitions, queer porn cinema, a photo room, mini-workshops, concerts, drag, DJs, or video works, as well as a sex-positive area. Additionally, there will be a massage room upstairs, where you can book a professional massage for a fee.

When does it start and until when?
On the two days of the event, starting as early as noon and lasting until 6am the next morning respectively, you can use your ticket to stay in the Phoenix Sauna. Our programme takes place between 7 p.m. and 11 p.m. - during this time our "rules" apply and our support team is also there for you. Come early, the entrance might take a little while.
Remember to buy your ticket online - no tickets will be sold at the door!
Can I come at all?
You are welcome to come, no matter what gender you feel you belong to, what your body looks like, or whether or not you bring a queer connection.
We do our best to create a space where racism, sexism, transphobia, misogyny, queerphobia, as well as discrimination against people with disabilities and transgressive sexual behavior have no place. So you are welcome as long as you treat others with openness and respect and respect their individual boundaries.
What do I wear?
Sauna clothes, which preferably means your bathrobe (or kimono) & very important: bathing slippers/shoes. You can borrow a towel from the sauna. Wear whatever you feel comfortable with under your robe: nothing or underwear or swimwear. During the course of the evening, you can become more extravagant and whip out your costume - but of course you don't have to.
And being naked?
You don't have to be naked anywhere - only the sauna cabins at queertopolis are textile-free (i.e. naked or with a towel). You can also be naked in the sex-positive areas. Otherwise, we ask that you wear the aforementioned clothing so that everyone feels comfortable. Some performances will include nudity.
There will be collective dressing rooms and open showers, but also an opportunity to shower and undress on your own.
What about sex?
In most areas of queertopolis, talking and thinking about sex is welcome, but sexual interaction is not. For steamy, affectionate, consensual sexual interaction, there will be a sex-positive area, that will be visibly marked - and a darkroom with a foam party exclusively for FLINTA* (women, lesbian, inter, non-binary, trans, agender).
We would like to encourage you to communicate your boundaries and also dare to think outside the box. Use the free spaces, try yourself out and be brave!
And of course: Protect yourself and others from sexually transmitted diseases and pay attention to hygiene. Sanitary products and contraceptives will be made available.
What's even hotter than consensual sex?
Only the sauna! Asking for consent or mutual agreement is a basic requirement for visiting queertopolis. Everyone involved in an interaction should be there voluntarily and with pleasure - and that is only the case if it would be just as ok in a situation to do something differently or not at all.
"No" means "no." "Maybe rather not", "rather later", "I don't know" also means "no" (for now). Therefore: Talk to people before you act, and communicate your needs, wishes and limits.
What if everything becomes too much for me?
To start off, we assume that you know what you need, what is good for you and what is not. queertopolis has corners for every mood, for meeting & retreating, action & rest. If you are not feeling well with something, there is a support team that you can ask for help.

What does the Community Team do?
Between 7pm and 11pm we are available at the two signposted bars, and some of us will also be available in the performance spaces. You can talk to us in German or English. If you experience or observe situations where something doesn't feel right, feel free to contact us at any time.
All of your feelings and experiences are valid to us. We take every contact seriously. We can help you to take action yourself or moderate group discussions. We can also issue warnings and even expel people from the event, to make queertopolis as safe and fear-free as possible for everyone.

And drugs?
Phoenix Sauna has a zero tolerance policy towards illegal drugs. If you consume hard drugs during queertopolis, we reserve the right to expel you from the event. However, the Phoenix Sauna is not a consumption-free space - alcohol will be served at the bar and you will find an outdoor smoking area upstairs.
What if I don't want to be photographed or filmed?
To make sure nobody feels watched, filming and photography is prohibited during queertopolis - so please leave your cell phone in the lockers of the changing rooms. In places where videos or photos will be taken during the evening, you will be made aware of this and can decide if you want to allow it.
Accessibility
Unfortunately, the Phoenix Sauna is not wheelchair accessible. Loud music and flashing lights are sometimes used during performances. There is darkness in the sex-positive area.
On 19.05.22 we will offer a touch tour at 6pm and parts of the evening will be accompanied by audio description and translated into German Sign Language.
If the sign "B" is noted in your disability card, a person can accompany you and gets free admission. To obtain a ticket for the accompanying person, please contact Franzi via e-mail: franziska.lammers@sommerblut.de.
To find your way around the premises or to the programme, there will be help and plans at the bars.
How do we address each other?
You are unsure which pronouns a person uses? If in doubt, just ask! Even though it may feel unusual at first, many people are happy for you to ask! Also, you can get a badge at the bar to make your name and pronoun visible for the evening.
What about Corona?
The official regulations of the state of NRW apply.

And what do I do if I meet my boss there?
That's great, you'll get to know each other even better.

Any important questions? Write us at queertopolis@sommerblut.de.
In addition, this project is supported by a network of important Cologne institutions from the scene, such as the Aidshilfe, the Queer Network and the rubicon.
Credits
| | |
| --- | --- |
| Performance | Marje Hirvonen; Mia Hofner & Rubee Fegan; Pauli Jürges, Vivi Kovarbasic & Sebastian Varra; Elle Fierce; Alexander Schaef, "BIRD SKIN"; Lunera, Drag Performance; Deli & Lara; Chiara Waßerka; Thaddäus Maria Jungmann, "wanna have fun?"; Simon; Georg |
| Workshop | Juana, Ballroom Workshop; Lecia Fushicho, BDSM- und Shibari-Workshop; Christiane Kaja, Konsens-Spiel; Chiara Waßerka & Zaf Resor, Orgasmic Trance Journey (handless); |
| Installation | Hannah Bingen & Sina Wenz, "Natural Queering"; Jeanne J. Eschert, (Dramaturgie: Eva Königshofen), "gender is a magic trick I forgot how to perform"; Theodor Marcella Meyer-Krämer, "Wer bist du, wenn du allein bist?"; Micha Kranixfeld, Mara May, Hörspie |
| Photography | Ygor Bahia; Andrej Nomorov |
| Music | Aaro, DJ; Mags & Martín, Konzert; Angelica Summer, Interactive Drag Performance; Sara Solar, Konzert; |
| Video | queeres Pornoprogramm: Lara Nickel & Miriam Gossing, Blonde Cobra - Festival for Queer & Experimental Cinema; |
| | Checkpoint der Aidshilfe Köln, Sexy Safer Sex Quiz; Ines-Paul Baumann, Kalle Feil, Bernt Ide, Martin Zepter, Fragerunde;, Ruth Prangen ("Konzeption Bühnendesign "), Judith Steinig-Lange |
| Concept | Martin Zepter |
| Artistic direction | Elle Fierce, Martin Zepter |
| artistic participation | Ria Unverzagt; Jakob Heimbach |
| Project manager | Jakob Heimbach |
| Consultation | Felix Dornseifer, Anna-Mareen Henke |
| interior design | Mags, Ricci, Jakob, Theo |
| Costume design | Kingdom of Cologne, Kay Karentina Buggisch |
| Technical assistance | Luise Rossbach |
| Contact team | Esther, Benjamin Fischbach, Linda Jalloh, Charly Krenn, Kyra, Lucca, Luis, Mags, Martín, Rachel, Ricci, Valerie Wehrens, Anbid Zaman |
| Audio description | Uschi Baetz |
| Sign language | Runa Musiol, Elisa-Marie Mischewski |