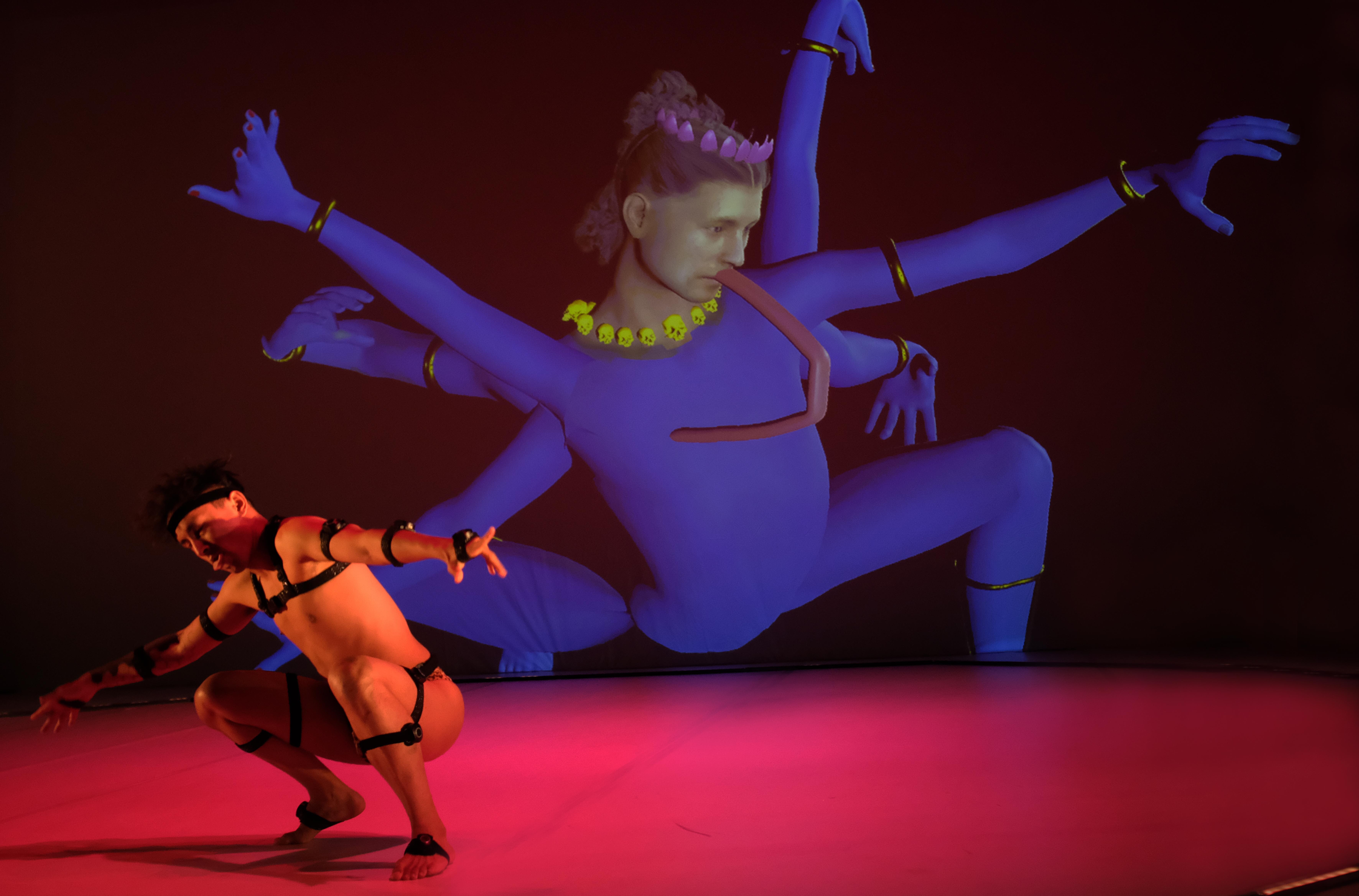 Information
Timespan
Saturday 6.5.
Price
4€ · 9€ · 17€ · 24€ · 48€
Artists
Choy Ka Fai
Location

Schauspiel Köln | Depot 2, Schanzenstr. 6-20, 51063 Köln

Impaired mobility Wheelchair access

Accessibility
Inductive loop Audio description German Sign Language Easy German Subtitle/Supertitle
Remark
The performance uses a fog machine, flashing lights, a laser light and a stroboscope. Images of a ritual with self-harming actions are shown, which may have a disturbing effect on some viewers. There is a moment of complete darkness. Loud music and repetitive sounds are played. Hearing protection is provided at the entrance. The audience area is seated. "Early boarding is possible.
That's what it's about
Shamanism meets voguing meets Yishun. For "Yishun is Burning", Choy Ka Fai adapts Singaporean ritual dances for a transcendent queer solo on a multimedia stage. Dancer Sun Phitthaya Phaefuang (a.k.a. Aurora Sun Labeija) enters states between ecstasy, trance and drag, transgressing attributions of gender, cultural identity and religion.
That's why you have to come
In search of religious ecstasy, we dive into the dystopian suburb of Singapore - Yishun. Thirty years after the iconic New York documentary "Paris is Burning", this evening intertwines themes of a globalized world with old and new movement traditions, celebrating the search for (one's) spirituality in dance.
Psst
Afterwards, we invite you to an evening with music and drinks in the Carlsgarten of Schauspiel Köln and in our brand new festival centre. Accompanied by speeches and a DJ set by GÎN BALI, we will start the festival with you!
More information about accessibility
Spoken language: English, Mandarin, Malay
Surtitles: English, German
German surtitles will be read aloud along with the audio description.
The parking spaces at the venue are suitable for people with disabilities.
The venue has a WLAN-based hearing system "Sennheiser MobileConnect". You can find more information here.
You can bring your own headphones to use the audio description and the translation into plain language. The connection works via a simple mini-jack plug.
We ask the following people to buy their ticket directly via tickets@buehnen.koeln or 0221 221 28400:
Persons who would like to take advantage of the offer of translation into German Sign Language.
Persons who would like to take advantage of the translation into Leichte Sprache.
Persons who require the audio description offered.
Persons who need a wheelchair accessible seat.
People who have a "B" in their disability certificate and would like to take advantage of a free ticket for the accompanying person.
Credits
| | |
| --- | --- |
| Concept & Documentary | Choy Ka Fai |
| Dramaturgy | Tang Fu-Kuen |
| Spiritual Presence | Kali and Kuan Yin |
| Choreography & Dance & Performance | Sun Phitthaya Phaefuang |
| Sound design & Music | NADA (Rizman Putra & Safuan Johari) und Cheryl Ong |
| 3D Visual Design & technology | Brandon Tay |
| Lighting design & Installation & Guest performance technical manager | Ray Tseng |
| Video | Damjan Sporcic |
| Technical assistance | Studio Singapur - ARTFACTORY |
| Tour Manager | Tammo Walter |
| Executive producer | Mara Nedelcu |
| Guest & Dance | Juana 007, Ray Elle, David Elle, Kiyan |
sponsor and supporter
Mit freundlicher Unterstützung von: