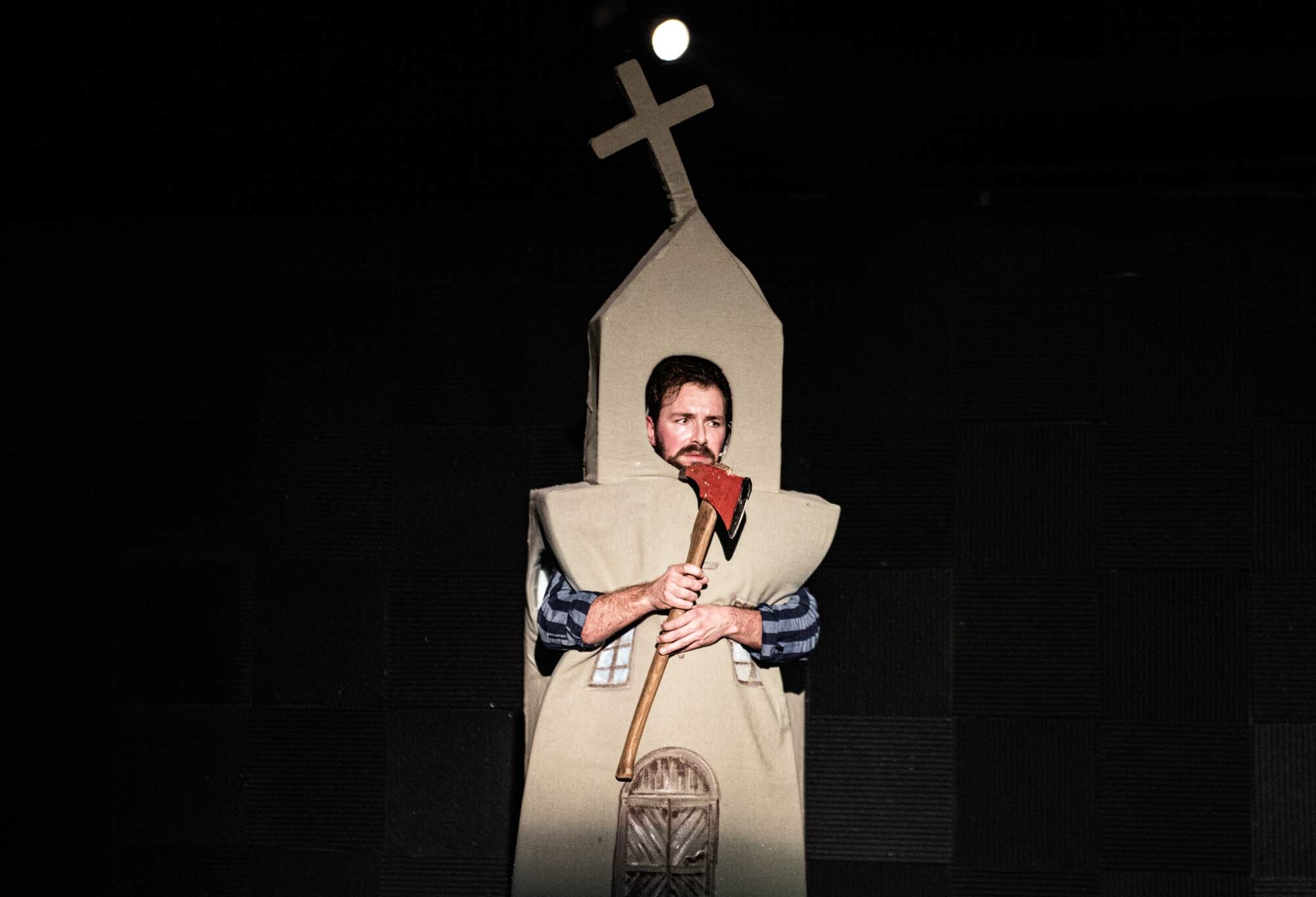 Information
Timespan
Saturday 13.5.
Price
4€ · 9€ · 17€ · 24€ · 48€
Location

Orangerie Theater | Bühne, Volksgartenstr. 25, 50677 Köln

Impaired mobility

Accessibility
Subtitle/Supertitle
Remark
For adults only. The performance includes scenes on religious themes that can be considered controversial despite being satirical.
That's what it's all about
Let's imagine the future. Let's imagine the unimaginable: The Catholic Church in Poland disappears.There are no more religious education classes in schools, no more Polish Pope in public spaces. Refugees live in parish houses, churches are now concert halls (or supermarkets?). Polish people no longer have to be Catholic to be truly Polish. How did this come about and what are the consequences of this breakthrough? Has the church also disappeared from our minds?
That's why you have to come
"RADIO MARIIA" imagines that we are already in this future. That we are making it right now, right here. Together we design alternative models of society, culture and politics. Where are the limits of our imagination? What stops them? What prevents them from being radical? What makes an utopia not come true?
The performance is part of the European project "Face to Faith".
More info about accessibility
Spoken language: Polish
Surtitles: English, German
The event room is also accessible for wheelchair users via a ramp. To use the ramp, we recommend assistance, as its percentage slope exceeds 6 percent.
Credits
| | |
| --- | --- |
| Direction | Roza Sarkisian |
| Dramaturgy & Script | Joanna Wichowska |
| Dramaturgy & Direction assistance & Script | Krysia Bednarek |
| Actors/actresses/performers & Script | Oskar Stoczyński, Oxana Cherkashyna |
| Stage design & Costume design | Kornelia Dzikowska |
| Video & Lighting | Adam Zduńczyk |
| Music | Dariusz Cichosz |
| Consultation | Małgorzata Szutowicz, Zuzanna Hertzberg |
| Actors/actresses/performers | Elżbieta Korolczuk, Magdalena Staroszczyk |
sponsor and supporter
Mit freundlicher Unterstützung von: